It is possible to add a timer to certain questions. This option can be used in the PowerPoint add-in as well as the web app of Sendsteps. In this article we will explain how to add a timer in PowerPoint add-in and Web App.
Question with a time limit option

The time setting is only possible for the following question types:

Quiz

Multiple Choice

Multiple Vote

100% Stacked Bar (Only available in PowerPoint)

Net Promoter Score (Only available in PowerPoint)

PowerPoint



To activate a timer for your question types in PowerPoint add-in you need to go to the question settings. This can be done in two ways

1. Click on ''Editing question settings''
This button is used when you already have an existing question. Click on this button found in the Sendsteps menu bar to get access to the setting


2. Click on options when creating a question
When creating a new question you can immediately go to the options. This button is found in the left corner of the window that pops up

When you are in the options menu, please go to the display section. When clicking on the options, the default section would be Display. However, if you are not in the Display section, please go to Display as shown in the GIF below.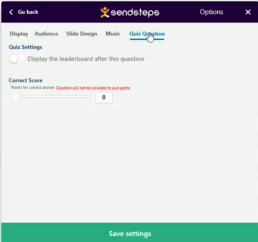 Select the amount of time you want to give your audience to respond and toggle the setting on. You can enable the time setting from 1 to 999 seconds. When you fill anything higher than this amount it will change to the latest used number.

Web App
You can select the timer on the right menu in the Web app. You can find it in the right corner below. Select the time you want to give your audience to respond and toggle it on to activate the timer.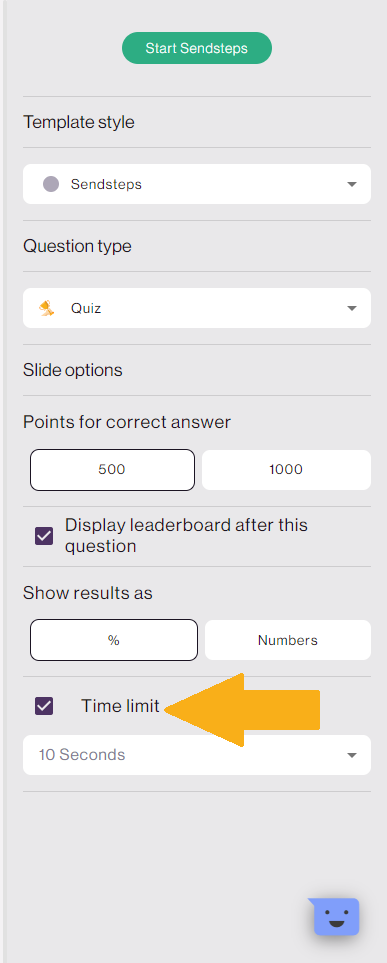 The diffrent amount of time settings we have are;

20 Seconds

30 Seconds

60 Seconds