How to create a Sendsteps?
To create a
Sendsteps
presentation you
have to
go to "+Create
Sendsteps
" button in the right top corner.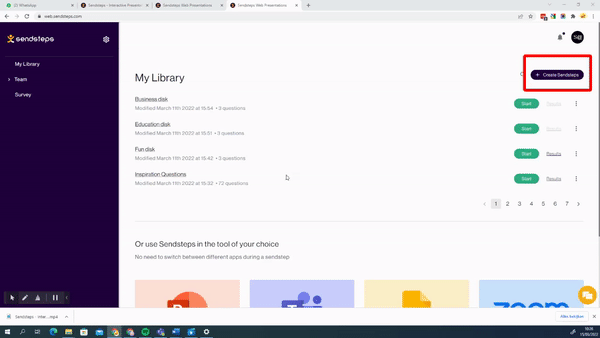 Related Articles

How to create a question?

How to add a question in PowerPoint Add-in To add a question you need to click on ''Add question'' that's found in the left corner of your screen. The available questions we have in PowerPoint are; Quiz Multiple choice Points question 100% stacked ...

How do I log out on web?

To log out on the web, go to web.sendsteps.com and click on the icon in the top right corner. Here you can click on log out. Once you are logged out, you will be sent to the log in page of web.sendsteps.com. ​

Sendsteps on Android

How can Sendsteps be used on Android? As a presenter, you can prepare your Sendsteps on web.sendsteps.com on all devices with a browser. This includes an Android phone, tablet or any other device from Android. As a participant you can use the ...

Can I stay logged in on web?

Yes you can. If you log into web.sendsteps.com and click on 'remember me' you will stay logged in on the web.

Is there a Sendsteps app?

Sendsteps doesn't have an app for the Google Playstore or the Apple appstore. We do have a Sendsteps app for Microsoft Teams. This app is called Sendsteps.me. To learn more about how to use Sendsteps in Microsoft Teams, please read the article below. ...