When it comes to delivering impactful presentations, the ability to tailor your content to perfection is key. That's why Sendsteps, the innovative presentation platform, offers a powerful rewrite functionality that allows you to effortlessly modify and customize pieces of text within your presentation. This functionality extends to the speaker notes as well, ensuring a comprehensive and seamless experience for both you and your audience.
Let's delve into this feature and explore how you can make the most of it in just a few simple steps!
Step 1:

Selecting the Text
The first step is to select the specific piece of text within your presentation or speaker notes that you wish to modify. Once you have highlighted the text, a text editing window will appear on the right side of the screen.
Step 2:
Accessing the Rewrite Options
Within the text editing window, you will find an 'AI edit' button. Click on this button to unleash the full potential of the rewrite functionality. Once you do so, you will be presented with four different options to choose from, each designed to cater to your specific needs.

Rewrite:

If you select the 'Rewrite' option, the Sendsteps AI will completely rephrase and rewrite your selected text. This can be particularly useful if you want to present the information in a different style or improve the clarity of your message.



Adjust Tone:

The 'Adjust tone' option allows you to choose from four different tones in which you want your selected text to be rewritten. Whether you prefer a casual, neutral, persuasive, or intellectual tone, Sendsteps has you covered. This feature empowers you to align your content with the desired atmosphere and audience engagement level.



Extend:

When you choose the 'Extend' option, Sendsteps will automatically lengthen your selected text. This is helpful when you feel that the information provided needs to be elaborated upon or expanded further to provide additional context or depth.



Shorten:

On the other hand, if you find that your selected text is too lengthy or requires summarization, the 'Shorten' option is at your disposal. With a single click, Sendsteps will condense your text while retaining its core meaning, allowing you to effectively communicate key points concisely.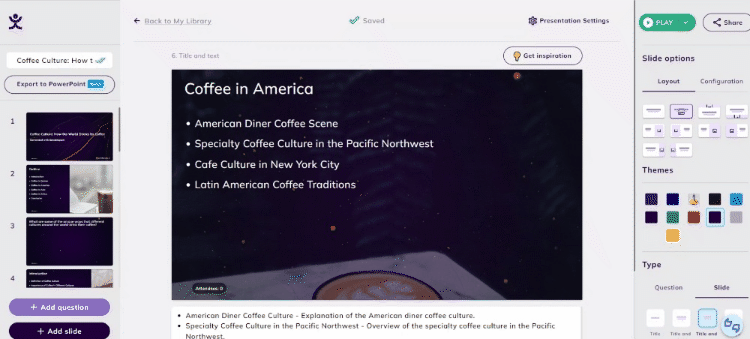 With these versatile rewrite options, you can easily tailor your presentation content to match your preferences, audience, and time constraints, ultimately enhancing the overall impact of your message.
By providing this feature, Sendsteps empowers presenters to be more efficient and effective, enabling them to craft compelling presentations that resonate with their audience. Whether you are a seasoned speaker or just starting out, the rewrite functionality is a valuable tool that helps you refine and polish your content with ease.