Where can I find the question settings?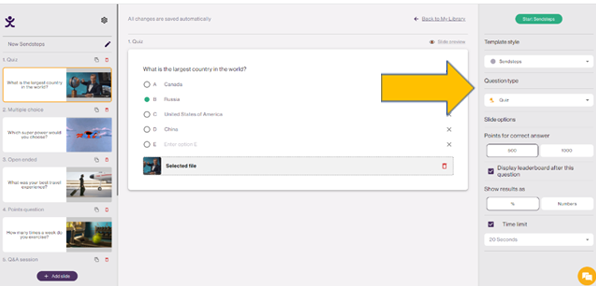 Related Articles

Where can I find my general settings? 

You can access the general settings in two ways on the web app. The first one is when you are in the library, go to the top left of your screen and click on the setting icon. ​    Are you already in a Sendsteps and do want to change your settings? ...

How do I change the question type?

Do you want to change a question after selecting one? You can do this by using the Question type option. Click on this setting to change the question type. Be aware in the web app changing your question type will result in the image/gif being deleted ...

How to create a question?

How to add a question in PowerPoint Add-in To add a question you need to click on ''Add question'' that's found in the left corner of your screen. The available questions we have in PowerPoint are; Quiz Multiple choice Points question 100% stacked ...

How do I log out on web?

To log out on the web, go to web.sendsteps.com and click on the icon in the top right corner. Here you can click on log out. Once you are logged out, you will be sent to the log in page of web.sendsteps.com. ​

Where can I find question options?

There are two ways to find the option menu from PowerPoint. Option 1 navigating to options from PowerPoint: The first option is to navigate to the ''Edit quiz" setting that is in the menu bar of the Sendsteps PowerPoint tool. Double click to open ...