How do participants join my session?
Participants can join by scanning the QR code or going to the response website Sendsteps.me* and use the login code that is shown on the first slide after starting your presentation. You can change the login code in your general settings or when making a Sendsteps, this will also change the QR code.
*URL can be customized
Example: response website with custom login code (Testy123)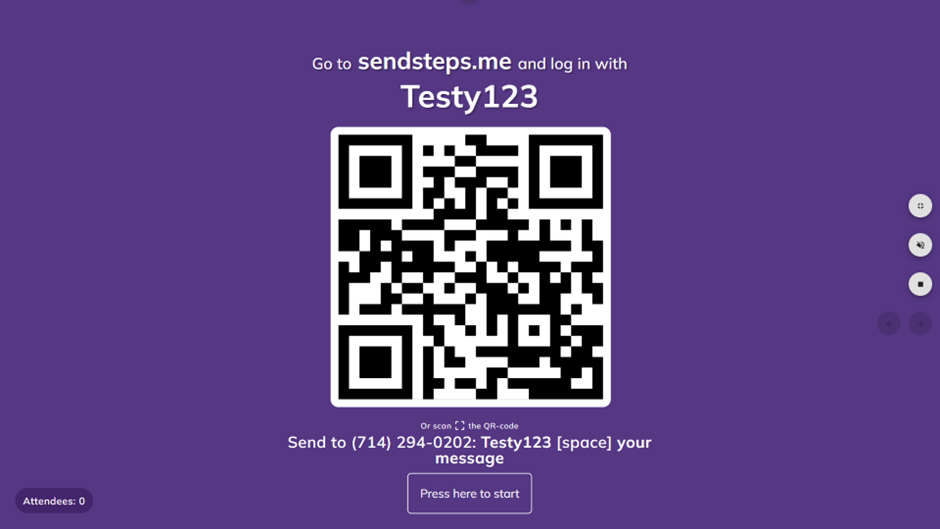 Example: From the perspective of the audience, this is how the website looks.

In case the presenter has activated the feature that allows participants to identify themselves by choosing a nickname, kindly do so. Afterwards click on the yellow button in on the bottom right.

Example:
From the perspective of the audience, this is how the website looks.

If all done correctly, you or your audience should now be able to join your Sendsteps presentation/quiz!

If you would like to know how change the login code please OR how to use SMS/Text for responding, please click on of the links below.
---
How can I change my login code? 
How do you activate SMS/Text voting and how does it work?
Related Articles

How to identify my participants?

Within Sendsteps we provide a setting to ask participants to identify themselves by providing information like name, department, student id, etc. Go to your settings (see GIF below) or click here to go there directly. Click on the little + icon that ...

Does the QR code change every time I start a session?

The QR code will only change when you change your log-in code. If you wish to change your log-in code, please click here

Can participants vote via internet?

Yes, participants can vote through the internet. Via PC, Phone, tablet or anything else with an internet browser or connection. Go to sendsteps.me or your branded voting site on your web browser and fill in the code that is shown on the presentation ...

What is upvoting?

Text explanation Through upvoting you can see what your audience wants to know the most beforehand. This is possible by letting participants vote on each other's responses. This could be used in a Q&A session, for instance. Example: Q&A = Which ...

How does the response filter/moderation work?

The first step is to activate this setting in your Sendsteps account. We have two products where you can activate this. Web App In the web app this setting is found under the slide. Click on the toggle to see the URL to your response filter. ...