How to change the template style?
It is possible to change your template style to your own liking. There are different options for depending on your Sendsteps subscription plan.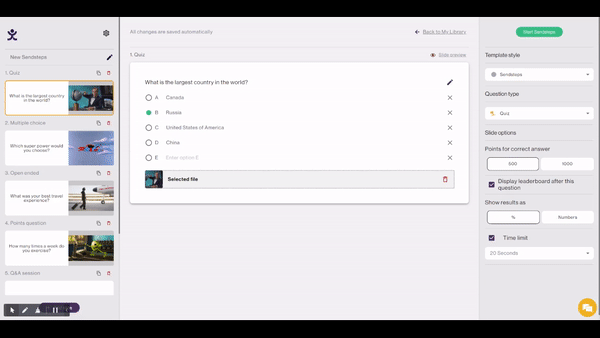 Related Articles

How do I change the question type?

Do you want to change a question after selecting one? You can do this by using the Question type option. Click on this setting to change the question type. Be aware in the web app changing your question type will result in the image/gif being deleted ...

How to create a Sendsteps?

To create a Sendsteps presentation you have to go to "+Create Sendsteps" button in the right top corner.   ​

How can I change my login code? 

For Web app You can change your login code by clicking on the pencil located in the general settings OR click the following link to go to the general settings directly: Sendsteps Settings Or you can change your code when making a Sendsteps as seen ...

How to change graph style?

Graph style This is a feature that enables you to choose which way the score is shown. To get to this question option you need to click on the graph icon that is in the top right corner. If you click on this it will show the different types of graphs ...

How do I log out on web?

To log out on the web, go to web.sendsteps.com and click on the icon in the top right corner. Here you can click on log out. Once you are logged out, you will be sent to the log in page of web.sendsteps.com. ​