How to log into the Sendsteps PowerPoint Add-in?
You can log into the Sendsteps PowerPoint add-in very easily. Open PowerPoint, click on Sendsteps that is found in your PowerPoint Ribbon. Once you click, a log-in screen will pop up that enables you to log in using your Sedndsteps account. To use Sendsteps you need a (free) account with Sendsteps.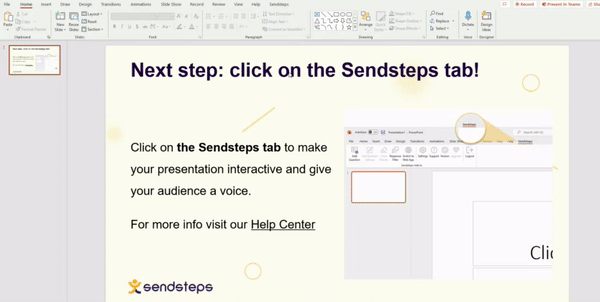 Related Articles

How do I download/install the Sendsteps PowerPoint add-in?

If you wish to install the Sendsteps PowerPoint add-in, simply follow the following steps: Step 1: Register your Sendsteps account and log in. Sign up for your Sendsteps account (you can skip this if you already have yours). Once you have ...

How to log into the Sendsteps Web App?

Log in on Web App To start with your Sendsteps you need to log in first. You can log in with your username and password at https://www.sendsteps.com   How do I find my presentations?   If you logged in through www.sendsteps.com you can go to your ...

What types of questions can I add?

At Sendsteps we support different question types. Depending on the Plan that you're on you are able to use all our question types or a selection. The question that we support are: Word Cloud Open-ended Quiz Q&A Survey Multiple Choice Net ...

Creating your Sendsteps account

Creating your Sendsteps account is a quick and easy process. Follow these steps to get started: Step 1: Go to the Sendsteps sign up page. Step 2: Enter your full name, your email address, your phone number and choose a password. After that click on ...

Can I download and export my presentation to PowerPoint?

Although we previously mentioned that downloading Sendsteps presentations to PowerPoint was not possible, I am happy to inform you that we have now added the option to export your presentation to PPT format. This allows you to take your interactive ...